Posted in
Racing
by
Dave Erickson
Congratulations to all the participants at the 2012 Snake River Duathlon in Lewiston, Idaho on Saturday, March 24th in Hells Gate State Park.  This particular duathlon is a 2-mile run, 12-mile bike, 2-mile run.  This was my first year racing the event and my third ever duathlon.  This was a special race for a number of reasons.  First, I was riding my brand new Quintana Roo TT bike;  the 2012  bike sponsor for the Timex Multisport Team.  I am riding the Quintana Roo Red CD0.1 frame equipped with Di2.  This is the bike Triathlete Magazine called "the most innovative in the past decade from any brand."  
Saturday was my first outdoor ride on the new bike.  Normally I wouldn't race a bike without testing it out on the open road but I was confident with my pre-race bike fit (big thanks to Jim, John and Robin at Fitness Fanatics in Spokane Valley)  and the fact that it was only 12 miles.  I've also raced this bike course three times before in a triathlon so I was quite familiar with the route.  As expected, the bike worked amazing.  I especially liked the ease and efficiency of the Di2 electronic shifting.  Second, the ISM Adamo saddle provided a ride comfort level like I've never had before.
I didn't have time to set up my power meter (got the bike late Friday afternoon) so I don't  know how hard I rode or my speed, cadence or total bike time but I do know my T1, bike time and T2 combined was 35 minutes on the nose.  Here's how I know.  I entered T1 after running the first 2 mile run in 14 minutes and exited T2 at 49:00 minutes on the race clock.   I crossed the finish line 15 minute and 29 seconds later for a total race time of 1:04:29 which was good enough for 22nd overall and 3rd in my age group!
The other big reason why this race was so special was my teammates (pictured above).  Not pictured were Greg Gallagher and my Muffin, Melissa.  Greg wasn't racing but instead cheered us on and took video and photos.  Muffin was also not racing but was nice enough to shoot race footage with my video camera for the video below  (I added the music and did the editing).  Racing alongside teammates make the experience so much more fun and memorable.  Thank you to Craig, Erica, Matt, Jarod, Nate, Merissa, Meghan, and Natalie.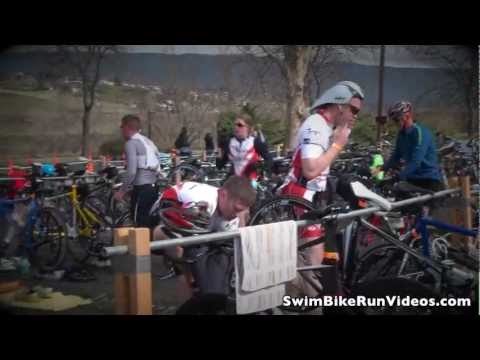 You can follow my adventures in triathlon and endurance sports here and on my Timex Multisport Team profile.
---