Posted in
Fun
by
Dave Erickson
Saturday was the 24th edition of the Grizzly Triathlon in Missoula, Montana.  It's a very famous and popular race in Montana.  The race consists of a 1,000 yard indoor swim, a 12.5 mile bike and a 5k run.  The race starts and finishes on the University of Montana campus.   Previous winners include former Timex Multisport Team member and 2010 Ironman Coeur d'Alene Champion, Linsey Corbin.  Infact, Linsey claimed her fourth victory on Saturday and set a new course record for the women (READ MORE AND SEE VIDEO HERE).
The Grizzly Triathlon is the largest multisport event in the state of Montana.  Athletes come from all over the Northwest and beyond.  This year there were well over 550 competitors.
Ben Greenfield and I loaded up our matching Quintana Roo CD0.1 bikes on the back of my BMW 650i (loaner) and took off from Spokane, Washington at about 8 o'clock in the morning on Saturday.  Our swim heats didn't begin until after 2 o'clock so we had plenty of time to make the 200 mile journey.  As many people are beginning to know, it's my modus operandi to bring a video camera with me to most any race I attend or participate so that what I did on Saturday.   Here's part one of our trip to Missoula.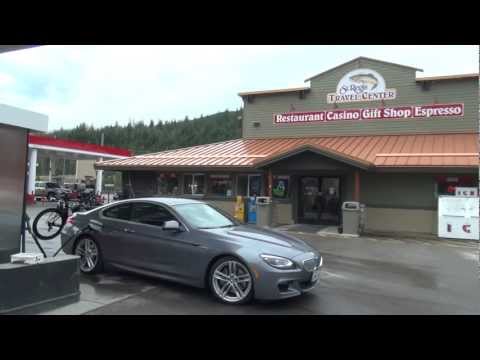 If you haven't yet, follow me on twitter @IMDaveErickson and see more than 540 original swim, bike, run and athlete interview videos anytime on my Youtube Channel.
My other favorite multisports-related websites include,  SwimBikeRunVideos.com, TriathlonFAQ.com and IronmanUniversity.com.
---