Posted in
Racing
by
Dave Erickson
I first met Australian, Stu Fitch at Timex Team camp in 2010.  It was a somewhat brief encounter while waiting outside our hotel for the shuttle to the airport.  I was there shooting video for the team and it was Stu's first year on the team.  Also, for anyone who has met Stu, even a brief encounter can leave a lasting impression, it did me.  I would end up learning much about about Stu later that year in October during the week leading up to his 3rd appearance in the Ironman World Championship (picture above).  We have since become fast friends. I've included those two sit down interviews below.
When Stu and his wife, Ali came to Coeur d'Alene, Idaho last year for Ironman CDA, we did our second interview, this time standing up.  I also interviewed Ali for the first time.  Ali was then a member of the Timex Multisport Team.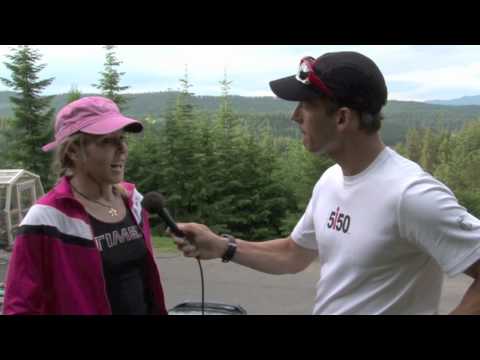 Last week Stu and I  shared a 50 mile bike ride in Coeur d'Alene, Idaho.  It was during that ride I learned Stu would be heading down to Portland, Oregon to race in Rev3 Portland.  I was also heading down to do the Olympic distance event.  Stu was signed up for the Half Iron Distance.  I invited to drive us both down to the race.
After spending the better part of 6 hours driving from Spokane to Portland last Friday we stopped by the swim course in Fairview, Oregon and tested out our new Blueseventy Helix wetsuits in Blue Lake.  Water temperature was in the low 70′s and the suits were a perfect compliment.  You'll have to check Stu's Facebook updates on the fun we had and out slight run-in with a young man in a patrol boat.
By the way, it was during our driving around Fairview, Gresham and Troutdale, Oregon that we recorded our first of two podcasts for the Endurance Hour.  LISTEN HERE: Endurance Hour #29, Rev3 Portland.
Both Stu and I had very good individual and overall results on Sunday in our respective distances.  Stu finished first in his age group and I finished 2nd in mine.  Below is a short video I put together of Stu during his bike to run transition, his finish line crossing and short interview plus his award presentation.  Another element of the Rev3 experience that made it even more memorable was sharing it with half a dozen of my fellow Timex Teammates.  Here's one of our group photos after the race: Stu, Christine Anderson, me and Kelly Fillnow.  Not pictured are: Viktor Zyemtsev, Lauren Goss and Nicolas Thompson.
Stu and I also did a full race recap podcast during our drive home on Sunday.  You'll be able to hear that on episode #30 of the Endurance Hour podcast in a few days.
Never miss an update by following me on twitter @IMDaveErickson and see more than 670 original swim, bike, run and athlete interview videos on my Youtube Channel, please subscribe to receive new video notifications!
---