Posted in
Training
by
Dave Erickson
I've been hearing more and more about this "Crossfit" craze from friends and family so I figured, what the heck.  If I can do an Ironman, I can do a super intense 7-10 minute Crossfit workout, right?!  Well, sort of.
I was pretty sure going in that it wasn't going to be easy but I didn't realize how hard it would end up being.   The owner of Crossfit 509 in North Spokane,  Kevin (pictured in green) was nice enough to put me through an introductory session earlier this week.
I remember practicing plyometrics in high school and college and I'd say Crossfit is very similar but with weights, more challenging movements plus there's the time element.  Crossfit involves explosive power and intense cardio, all-in-one!
At the end of my 7 minute workout video below, my lungs were burning and my heart was pounding out of my chest!  I think I might be hooked on this Crossfit business.
By the way, the bar was 45 lbs and the weights were 15 lbs each.  If any of my Timex teammates would like to begin a friendly competition on how many rounds they can do, let me know.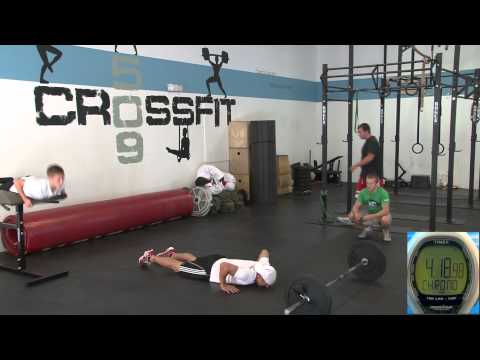 Never miss an update by following me on twitter @IMDaveErickson and see more than 800 original swim, bike, run and athlete interview videos on my Youtube Channel, please subscribe to receive new video notifications!
---