Posted in
Training
by
Dave Erickson
At 11.5 ounces, the K-SWISS California running shoe incorporates the latest technology for dryness, stability, and maximum cushioned impacts.   You can wear this shoe with confidence knowing that it'll perform on both smooth road surfaces as well as off-road trails through your favorite state park.
ALSO SEE:  K-Swiss K-Ona C, Running Shoes for Triathletes
The California has seamless upper and dual-density construction which sets this shoe apart with remarkable comfort and lightweight stability.  Combined with its  Superfoam® crash pad, the ride becomes all the more smooth and stress free because the last thing you want to worry about when running is your feet.
It's defined as a Stability shoes, meaning it's great for people with an average arch.  In other words, it provides cushioning and helps guide your feet naturally through each step.
ALSO SEE: Native Eyewear Silencer Polarized Sunglasses Review & Video
ALSO SEE: Native Eyewear Nova Polarized Sunglasses Review & Video
The heal, footbed, and sockline of the shoe features a yoga-mat-like material for maximum cushioning which can make those long runs more bearable and helps on uneven rocky surfaces through some of the most challenging running trails.  Oh, it's heel grip lining  prevents sock slippage… nice bonus.   It also has an Ion Mask;  a liquid-repellent coating that keeps out water or other liquids, and keeps the shoe lighter and cleaner.
You will also notice it has a seamless heat-welded upper which provides an upper with no stitching so that it gives comfort without irritation.
I've been wearing the California for a majority of my trail-run-training and they're a great shoe.  I even wore  them during my first XTERRA off-road triathlon in Montana.  The California retails for $130 on KSWISS.com with Free Shipping on orders over $50 bucks, so that's good.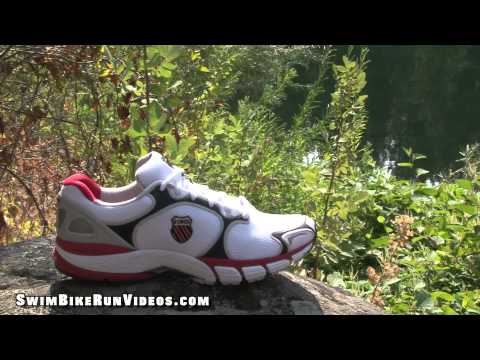 Never miss an update by following me on twitter @IMDaveErickson and see more than 830 original swim, bike, run and athlete interview videos on my Youtube Channel, please subscribe to receive new video notifications!
---