Posted in
Training
by
Dave Erickson
Fuel your passion for speed in K-Swiss's aptly named Kwicky.  At 9 ounce, the KWICKY Blade-Light from KSWISS is my racing shoe of choice when it comes to triathlon.  It's an innovative light-weight running shoe featuring Blade-Light technology and stability enhancement.  It's defined as a performance stability shoe which means you will feel lighter on your feet.  And I wouldn't be surprised if you post a couple of PR's in these runners.
These shoes have excellent cushioning and a Superfoam heel crash pad and footbed.  And its innovative seam-free design eliminates rubbing, chafing and hotspots, with ion-mask hydro-phobic technology that keeps you cool, dry and comfortable from start to finish!
ALSO SEE: KSWISS California Dreamin'
ALSO SEE:  KSWISS K-Ona C, Running Shoes for Triathletes
A few of the other features and benefits include:  Guideglide dual-density construction featuring Blade-Light cushioning and side drainage and  Dynamic TPU arch support and 3D medial posting for enhanced stability.  From personal experience, I can tell you, the Kwickly Blade Light is a sporty running shoe that packs a powerful performance punch!   They retail for $135 on KSWISS.com and since you receive free shipping on orders over $50 bucks, you're good to go.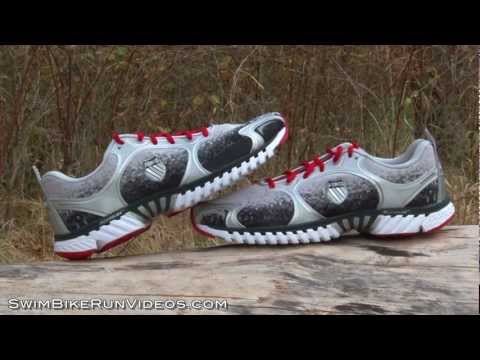 Never miss an update by following me on twitter @IMDaveErickson and see more than 850 original swim, bike, run and athlete interview videos on my Youtube Channel. Click subscribe to receive new video notifications!
---