Posted in
Racing
by
Dave Erickson
First of all, I did not qualify to race in the XTERRA World Championship off-road triathlon in Maui, Hawaii.  Heck, I didn't even own a mountain bike until late June of this year.  I did my very first XTERRA off-road triathlon one month later in Montana (SEE VIDEO HERE).  It was one of the most physically challenging races I had ever done up to that point.  Somehow I managed to do well enough to receive a roll down slot to race in the XTERRA USA Championship in Ogden, Utah two months later.   That race became my most challenging race to date.  Fast forward to October 22nd in Kapalua, Maui, Hawaii.  Since I didn't qualify for the XTERRA World Championship (I registered through an online lottery last December), my goal was not to be last in my age group.  I'm happy to report  I was 60th out of 74 in the 40-44 age group.  And even though this race was difficult and challenging, I'm hooked on XTERRA!  I am still a road triathlete but I will certainly come back for more of the off-road variety.
SWIM – I was comfortable and confident about doing well in the 1.5-kilometer rough water swim at D.T. Flemings Beach.   I did a handful of practice swims in Kailua-Kona bay the week following the Ironman World Championship (SEE BLUESEVENTY SPEED SUIT TEST VIDEO) and made sure to jump in the water a few times once in Maui.  The pros started first, then all men, then all women.  Each wave was separated by about 90 seconds.  Things started off good.  I made sure to wait a full 30 seconds before joining the masses and the extra time paid off.  I wasn't bumping into anyone and no one was swimming over the top of me.  My swim in Utah was a nightmare because I started too close to the front and got pummeled!  The water was fantastic.  I remember making the turn at the first buoy and seeing a scuba diver below shooting video.  That was pretty cool.  Once I reached the shore after the first out-n-back (completed in about 15 minutes), I was hit and tossed by a wave and as a result lost my swim goggles!  Funny, I didn't realize it until I was about 25 yards on the beach.  I ran back briefly but quickly realized they were no where in sight.  I shook my head, gritted my teeth and accepted  the fact that I would need to finish the final half of the swim without my goggles.  No need to practice this, it's not fun and not helpful in any way.   To make the final out-n-back, I made it my goal to sight every 6-8 strokes.  This was not easy.  I also took in some giant gulps of sea water. Gross.  I did veer off course a little but managed to make it to shore in 33:34.  My eyes were stinging like crazy!
T1 – I took tons of time in transition because I knew the bike portion was going to be the biggest challenge of the day.  I dried my feet as best as possible, rinsed my eyes out with water, ate half a banana, threw down a handful of PowerBar gel blasts and took off.  Time in transition, 5:26.
BIKE – I am so glad I pre-rode the bike course on the Wednesday before the race.  It made a big difference mentally as well as physically.  I knew when the climbs were coming, I wasn't as frustration when I had to get off and walk and I was ready for the descents.  All these elements helped me pace the ride more efficiently.  My pre-ride time was just under 3 hours.  My goal for the race was 2:45.  At the first aid station, which I think was at about mile 7,  I dropped my water bottle for a course bottle and took a giant swig.  I then stuffed the new bottle in my water bottle holder but lost it about a minute later flying down a long hill.   I knew this could spell trouble later, especially as the day got hotter.  I had to scramble.  The problem was I was too far down the hill the go back and the next aid station was miles away.  I started seeing more and more bottles littered along the course.  Clearly I wasn't the only one who had lost their bottle.  So, I decided to stop and pick one up.  Even though it wasn't full, it was enough to carry me to the next aid station.  There should be no doubt in anyone's mind as to whether or not this was a championship bike course  (SEE MY BIKE COURSE PREVIEW).  There was nearly 3,500 feet of total elevation gain and lots of terrain challenges.   Then at about mile 12 or 13 I started to feel a slight twinge in my left quad.  I was beginning to cramp.   As a results, I made sure to double up on water bottles at the next stop and tucked 'em both in the back of my jersey.  I made it back to transition safely and without crashing in 2:22:12.
T2 – Once back to transition, I took my time again.  I was ahead of schedule.  But I was super filthy from all the dust and dirt and my feet were soaked.  I had prune toes.  So, I wiped myself down as best I could, changed my socks, stretched, took another handful of PowerBar gel blasts and headed out.  I got back so fast from the bike, Melissa wasn't ready for me.  She was sitting under a tree in the shade looking through her cell phone.  Time in transition, 5:08
Run – I didn't get a chance to pre-run the course but I did know the first 2-3 miles were all uphill.  Not my favorite thing to do.  I was averaging 11 minute miles during the first 2.5 miles.   I was doing a lot of walking and hydrating.  My right hamstring started to cramp a little and my left hip flexor was acting up too.  Once to the top, it was pretty fast going down but again, my hamstring was on the verge.  I ended up stopping three times to stretched it out.  No need risking an injury at this stage. Since I was wearing my Timex Run Trainer with GPS, I was very aware of my overall time,  pace, run splits and total distance.  Once at the halfway mark on the run I thought maybe I might be able to break 4:15.   That alone gave me a boost, so, I pressed on.   This run course had just about everything, downed trees, low hanging branches, rocks, sand, dirt, a little water, plenty of climbing and fast descents.   Once back on D.T. Flemings Beach I was all smiles.  Even though I wasn't going to crack 4:15, I knew breaking 4:20 was possible.  Right as I was about to exit the beach, my good friend Mark was there to greet me and snapped the photo above.  Mark also served as the best man at my wedding 5 days earlier.   Total run time was 1:10:55 and my overall finish time was 4:17:15.
The 2012 XTERRA World Championship was my 14 triathlon of the season and I'm so excited to end it on a positive note.  I'm already looking at my race calendar for next year!  I was so lucky to have my wife Melissa on hand to cheer me on and to shoot video.  Thank you, Muffin!
Video Below: Dave Erickson Race Video, 2012 XTERRA World Championship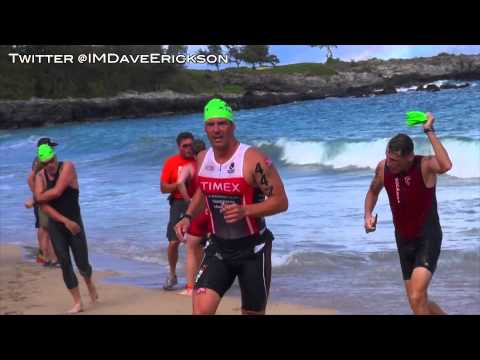 Video Below: Official 2012 XTERRA World Championship Highlight Video.  See Me @ 2:55, 8:35, 9:58.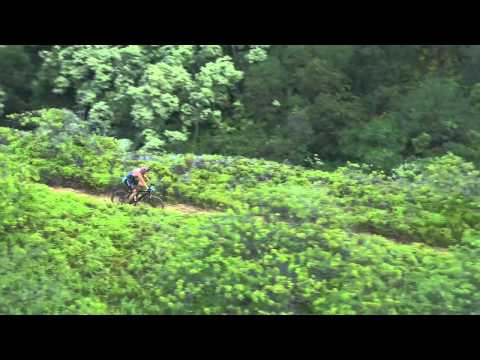 Never miss an update by following me on twitter @IMDaveErickson and see more than 900 original swim, bike, run and athlete interview videos on my Youtube Channel. Click subscribe to receive new video notifications!
---